Georgetown slave descendants want a billion dollar fund
Georgetown University is a private university in Washington, D.C. Founded in 1789, it is the oldest Catholic and Jesuit institution of higher education in the United States. It is located in Washington's historic Georgetown neighborhood.
The descendants of slaves sold by Georgetown University are calling on the school to create a billion-dollar "Reconciliation Fund," after the school apologized for its role in the slave trade and promised several (much cheaper) efforts to make up for it.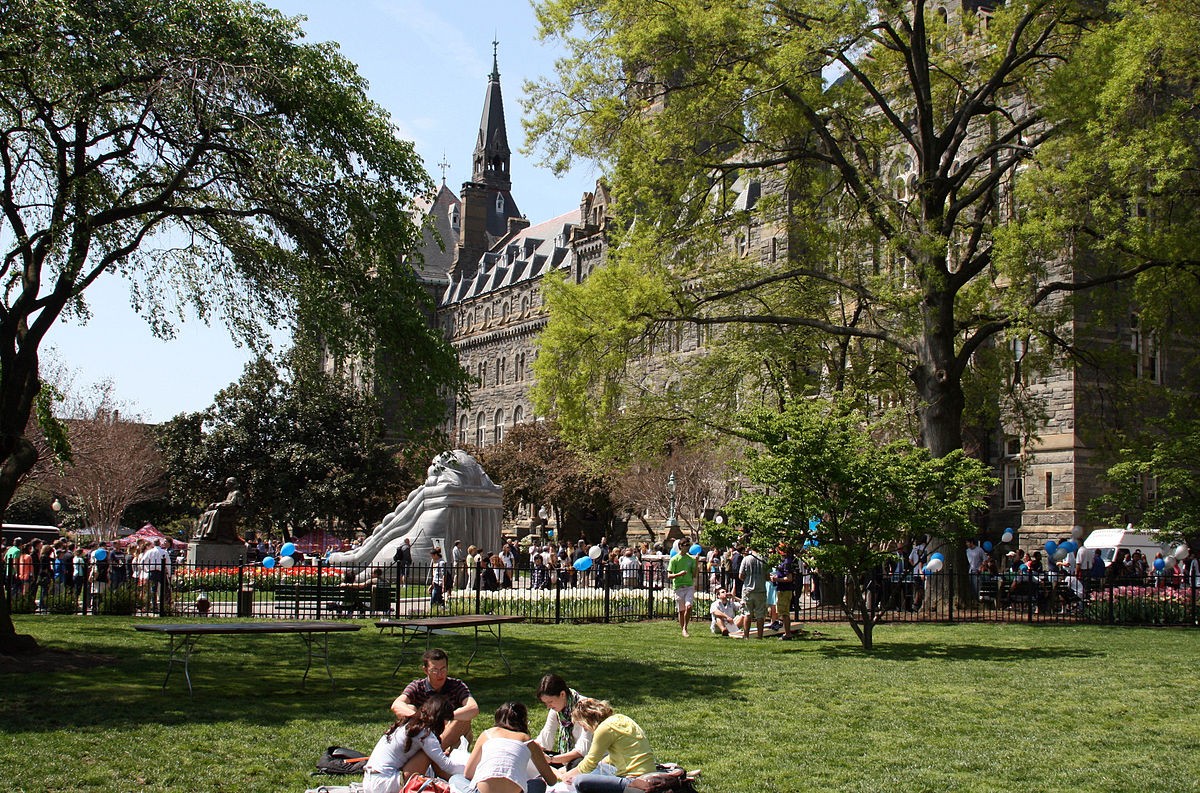 photo: commons - wikimedia
In 1838, Georgetown sold off 272 slaves in order to pay its debts, selling them for $115,000 (over $3 million in today's money). In recent years, the school has faced demands from activists who want it to atone for its actions almost 180 years ago.
A week ago, following the release of a report on the matter, Georgetown president John DeGioia announced Georgetown would offer a special admissions preference for any descendants of the 272 slaves the school sold. He also promised to build an on-campus memorial and renamed two buildings, one after a slave sold by the school and another after a woman who founded a local school for black girls.
The school's decision to confront the more sordid parts of its past won praise from some quarters, though several black writers criticized the move as hopelessly insufficient.
"We appreciate the gestures of a proposed memorial to our enslaved ancestors on Georgetown's campus and President John DeGioia's visits with some descendants, but recommendations developed without the meaningful participation of descendants can only be seen as preliminary," descendant Sandra Green Thomas said in a Thursday statement.
Thomas and other descendants have a much bolder vision than just extracting an apology from Georgetown. They want to set up a billion-dollar, national foundation that would be a leader in "the issue of truth and reconciliation."
Advocates say the foundation isn't a matter of reparations, because the foundation would ideally benefit the whole country.
"Our vision is not about reparations," said Joseph Stewart, another advocate for the descendants. "It's not about getting anything that just benefits descendants. It's about having an opportunity to have a common good." Despite the bold plans, it's not entirely clear what the huge foundation would actually do.
The descendants say they've managed to raise $115,000 (matching the un-inflated original sales price of the slaves), but they need Georgetown's money and backing to make the ten-figure foundation a reality.
While Georgetown is a wealthy university, a foundation of that size would be a massive commitment. As of 2015, the school's endowment was $1.5 billion, substantially smaller than comparable top 25 schools such as Notre Dame, Duke University, and second-tier Ivies such as Brown University.
Both Georgetown and the Maryland province of the Jesuit religious order, which operates the school, have responded with cautious statements that say they are open to working with the descendants but don't offer any specific support to the planned foundation.