Russian propaganda forges campaign leaflet for Ukrainian refugees in Germany
Propagandists provided Ukrainians with a "list of words" they need to know to be employed in Germany
A post illustrated with a photo of a leaflet appeared in z-Telegram channels the other day. It shows a list of German words with a Ukrainian translation.
All of them are related to housework, and at the top it says: "Learn these words to find a job in Germany." In addition, at the bottom of the leaflet you can see the logo of the NdM association which stands for diversity in journalism and combats bullying on the Internet. The leaflet also has the logo of the Handbook Germany project which is supported by NdM and deals with the adaptation of the life of foreigners in Germany. It follows from the idea of the propagandists that Ukrainian refugees in Germany can only do housework.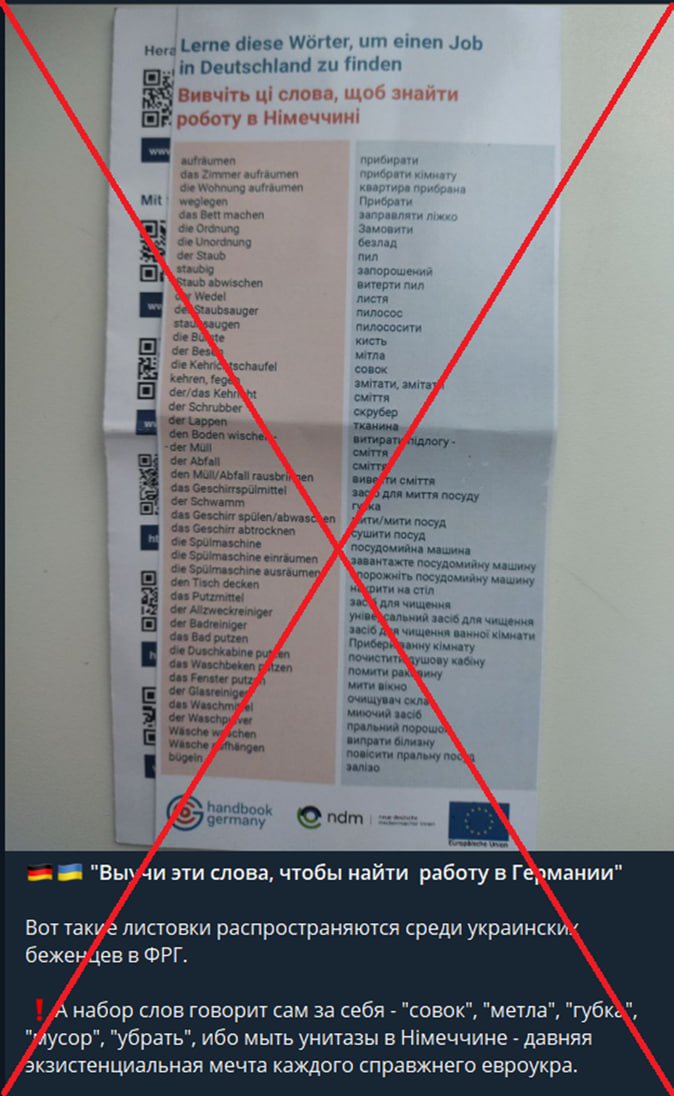 This is a fake. The Russians made a number of mistakes in the translation of the leaflet. In German, nouns are capitalized and preceded by an article. In addition, all German verbs in the infinitive end in n or en. However, the propagandists "translated" the noun die Ordnung [order] as "to order" and the verb bügeln [to iron] as "iron". It is interesting that the machine translation produces exactly the results that the Russians used. This confirms that the leaflet was created not by native speakers.
UKRINFORM