About
Contact & comments: germanpages(at)yahoo.com
germanpages.de -- Deutsche Rundschau is the modern, multilingual sequel to Germany's oldest monthly Deutsche Rundschau, founded in 1874.
germanpages.de -- Deutsche Rundschau continues the tradition of non-partisan reporting on a wide range of political, economic and cultural issues relevant to Germany and its role in the world.
germanpages.de -- Deutsche Rundschau is the sequel to http://german.pages.de which served as our domain from 2002 to 2014.
germanpages.de -- Deutsche Rundschau ist die Fortsetzung von http://german.pages.de welches uns von 2002 bis 2014 als Domain diente.


germanpages.de -- Deutsche Rundschau ist die zeitgemäße Fortsetzung einer traditionellen Monatsschrift, der Deutschen Rundschau, die über Jahrzehnte hinweg deutsche Politik, Literatur und Kultur dargestellt und zeitweise maßgeblich beeinflusst hat. ''Der Schimmelreiter'' sowie ''Effi Briest'' wurden erstmals in der Deutschen Rundschau veröffentlicht. Wie seinerzeit die Rundschau will germanpages.de -- Deutsche Rundschau ein breites Spektrum kritischer Analysen und Berichte zur deutschen Gegenwart in ihrem globalen Umfeld bieten. Doch im Gegensatz zur Rundschau war germanpages.de -- Deutsche Rundschau von Anbeginn mehrsprachig, der politischen, wirtschaftlichen und akademischen Wirklichkeit in Europa entsprechend.
germanpages.de -- Deutsche Rundschau ist ein überparteiliches, konfessionsfreies Medium für einen kleinen Kreis nachdenklicher Zeitgenossen, die sich für Fragen und Aspekte Deutschlands in seinem europäischen und weltweiten Beziehungsgeflecht interessieren. In der Tradition der Rundschau sind die Autoren erfahrene Journalisten, Publizisten und Fachautoren aus Politik, Kultur, Feuilleton und (im Gegensatz zur Rundschau) Wirtschaft. germanpages.de -- Deutsche Rundschau folgt den publizistischen Grundsätzen des Deutschen Presserats (Pressekodex).


germanpages.de -- Deutsche Rundschau ist nicht verantwortlich für die Inhalte externer Internetseiten.
The views of the authors do not necessarily coincide with the opinion of the editorial board.
Copyright: Articles written by our own staff are in the public domain and freely accessible. Their republishing is permitted if copied verbatim for non-commercial purposes. Credit to the author and a live link to the source of the article must be included when reproduced.
Datenschutzerklärung:
Datenschutz
Die Betreiber dieser Seiten nehmen den Schutz Ihrer persönlichen Daten sehr ernst. Wir behandeln Ihre personenbezogenen Daten vertraulich und entsprechend der gesetzlichen Datenschutzvorschriften sowie dieser Datenschutzerklärung.
Die Nutzung unserer Webseite ist in der Regel ohne Angabe personenbezogener Daten möglich.
Wir weisen darauf hin, dass die Datenübertragung im Internet (z.B. bei der Kommunikation per E-Mail) Sicherheitslücken aufweisen kann. Ein lückenloser Schutz der Daten vor dem Zugriff durch Dritte ist nicht möglich.
Haftungsbeschränkung
Die Inhalte des Internetauftritts wurden mit größtmöglicher Sorgfalt und nach bestem Gewissen erstellt. Dennoch übernimmt der Anbieter dieser Webseite keine Gewähr für die Aktualität, Vollständigkeit und Richtigkeit der bereitgestellten Seiten und Inhalte.
Als Diensteanbieter ist der Anbieter dieser Webseite gemäß § 7 Abs. 1 TMG für eigene Inhalte und bereitgestellte Informationen auf diesen Seiten nach den allgemeinen Gesetzen verantwortlich; nach den §§ 8 bis 10 TMG jedoch nicht verpflichtet, die übermittelten oder gespeicherten fremden Informationen zu überwachen. Eine Entfernung oder Sperrung dieser Inhalte erfolgt umgehend ab dem Zeitpunkt der Kenntnis einer konkreten Rechtsverletzung. Eine Haftung ist erst ab dem Zeitpunkt der Kenntniserlangung möglich.
Externe Links
Die Webseite enthält sog. "externe Links" (Verlinkungen) zu anderen Webseiten, auf deren Inhalt der Anbieter der Webseite keinen Einfluss hat. Aus diesem Grund kann der Anbieter für diese Inhalte auch keine Gewähr übernehmen.
Für die Inhalte und Richtigkeit der bereitgestellten Informationen ist der jeweilige Anbieter der verlinkten Webseite verantwortlich. Zum Zeitpunkt der Verlinkung waren keine Rechtsverstöße erkennbar. Bei Bekanntwerden einer solchen Rechtsverletzung wird der Link umgehend entfernen.
Server-Log-Files
Der Provider der Seiten erhebt und speichert automatisch Informationen in so genannten Server-Log Files, die Ihr Browser automatisch an uns übermittelt. Dies sind:
Browsertyp/ Browserversion

verwendetes Betriebssystem

Referrer URL

Hostname des zugreifenden Rechners

Uhrzeit der Serveranfrage

Diese Daten sind nicht bestimmten Personen zuordenbar. Eine Zusammenführung dieser Daten mit anderen Datenquellen wird nicht vorgenommen. Wir behalten uns vor, diese Daten nachträglich zu prüfen, wenn uns konkrete Anhaltspunkte für eine rechtswidrige Nutzung bekannt werden.
Datenschutzerklärung für die Nutzung von Google Analytics
Diese Website nutzt Funktionen des Webanalysedienstes Google Analytics. Anbieter ist die Google Inc. 1600 Amphitheatre Parkway Mountain View, CA 94043, USA. Google Analytics verwendet sog. "Cookies". Das sind Textdateien, die auf Ihrem Computer gespeichert werden und die eine Analyse der Benutzung der Website durch Sie ermöglichen. Die durch den Cookie erzeugten Informationen über Ihre Benutzung dieser Website werden in der Regel an einen Server von Google in den USA übertragen und dort gespeichert.
Im Falle der Aktivierung der IP-Anonymisierung auf dieser Webseite wird Ihre IP-Adresse von Google jedoch innerhalb von Mitgliedstaaten der Europäischen Union oder in anderen Vertragsstaaten des Abkommens über den Europäischen Wirtschaftsraum zuvor gekürzt. Nur in Ausnahmefällen wird die volle IP-Adresse an einen Server von Google in den USA übertragen und dort gekürzt. Im Auftrag des Betreibers dieser Website wird Google diese Informationen benutzen, um Ihre Nutzung der Website auszuwerten, um Reports über die Websiteaktivitäten zusammenzustellen und um weitere mit der Websitenutzung und der Internetnutzung verbundene Dienstleistungen gegenüber dem Websitebetreiber zu erbringen. Die im Rahmen von Google Analytics von Ihrem Browser übermittelte IP-Adresse wird nicht mit anderen Daten von Google zusammengeführt.
Sie können die Speicherung der Cookies durch eine entsprechende Einstellung Ihrer Browser-Software verhindern; wir weisen Sie jedoch darauf hin, dass Sie in diesem Fall gegebenenfalls nicht sämtliche Funktionen dieser Website vollumfänglich werden nutzen können. Sie können darüber hinaus die Erfassung der durch das Cookie erzeugten und auf Ihre Nutzung der Website bezogenen Daten (inkl. Ihrer IP-Adresse) an Google sowie die Verarbeitung dieser Daten durch Google verhindern, indem sie das unter dem folgenden Link verfügbare Browser-Plugin herunterladen und installieren:http://tools.google.com/dlpage/gaoptout?hl=de
Auskunft, Löschung, Sperrung
Sie haben jederzeit das Recht auf unentgeltliche Auskunft über Ihre gespeicherten personenbezogenen Daten, deren Herkunft und Empfänger und den Zweck der Datenverarbeitung sowie ein Recht auf Berichtigung, Sperrung oder Löschung dieser Daten. Hierzu sowie zu weiteren Fragen zum Thema personenbezogene Daten können Sie sich jederzeit unter der im Impressum angegebenen Adresse an uns wenden.
Quelle: eRecht24
Impressum:
germanpages.de -- Deutsche Rundschau
Redakteur/editor: Dipl.-Volkswirt Dr. Heinrich von Loesch BJV (verantw. i.S. §10 MDStV:)
Münchener Str. 6 D-85293 Reichertshausen;
Tel: 49(0)8441-8798956

E-mail: germanpages(at)yahoo.com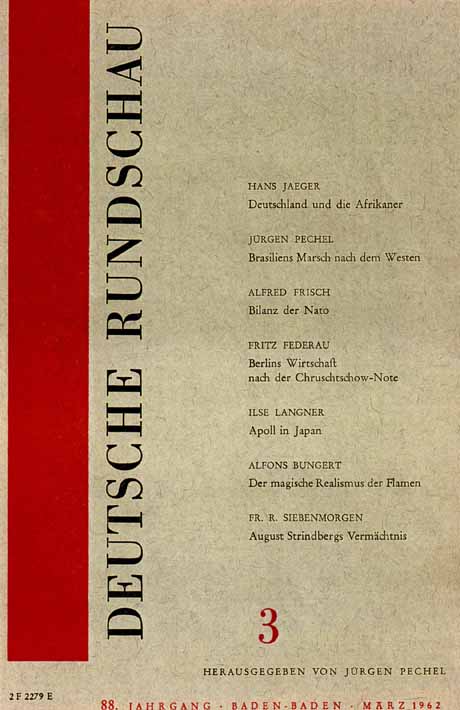 Programm der Deutschen Rundschau
Deutsche Rundschau
gegründet 1874 von Julius Rodenberg

fortgeführt von Rudolf und Jürgen Pechel
Heft 1, Jahrgang I, 1874
Mitarbeiter des 1. Hefts:
Berthold Auerbach
Anastasius Grün
Heinrich v. Sybel
J. v. Verdy du Vernois
Ferdinand Cohn
Friedrich Kreyssig
Karl Frenzel
Eduard Hanslick
Louis Ehlert
Die Deutsche Rundschau ist aus der allgemein getheilten Erkenntniß, daß es der Gesammtheit der deutschen Culturbestrebungen an einem repräsentativen Organ fehle, und aus dem Wunsche hervorgegangen, ein solches Organ zu schaffen; demgemäß unternimmt sie - soviel wir wissen zum erstenmal innerhalb der deutschen periodischen Literatur - den Versuch, nicht etwa nur eine Specialität unseres geistigen Lebens zu behandeln, sondern dieses in seinen charakteristischen und maaßgebenden Bestrebungen und Resultaten als ein einheitliches Ganzes darzustellen.
Der deutsche Leser hat zur Ausfüllung seiner Mußestunden illustrirte und andere Blätter; er hat zahlreiche Fachjournale zu seiner Belehrung, und zu seiner Führung auf den verschiedenen Gebieten der Literatur, des Theaters, der Musik und bildenden Künste die Kritik, die sich sowohl in selbständigen Publicationen als in den Feuilletons unserer Zeitungen ausspricht. Allein ihm fehlt eine Zeitschrift, welche dadurch, daß sie jene mannigfachen Elemente der heutigen Bildung zusammen in sich begreift, einen Ueberblick über den ganzen Inhalt derselben ermöglicht.
Diesem Bedürfnisse der gebildeten Kreise unserer Nation entgegenzukommen, ist die Deutsche Rundschau bestimmt. Sie wird Unterhaltung in der edelsten Form bieten und zugleich den wissenschaftlichen Fragen, den politischen, literarischen und künstlerischen Vorgängen mit der größten Aufmerksamkeit folgen. In keiner Weise wird sie dem Dilettantismus Vorschub leisten; ihre wissenschaftlichen Aufsätze werden von Männern der Wissenschaft, ihre Beiträge zur schoenen l.iteratur von den ersten unserer zeitgenössischen Dichter und Novellisten, ihre Kritiken von Schriftstellern verfasst sein, deren Stimmen zu den anerkanntesten und geachtetsten gehören. Sie wird eine ganz besondere Ehre darein setzen, auf jedem ihrer Blätter den Beweis zu liefern, dar deutsche Gründlichkeit wohl verträglich ist mit gutem Geschmack und deutsche Fachbildung nicht zu verzichten braucht auf guten Styl.
Die Deutsche Rundschau geht von dem politischen Mittelpunkte des Deutschen Reiches aus, und sie wird sich aller Vortheile der Information und geistigen Hülfsmittel, welche dieser gewährt, bedienen. Aber indem wir es für nothwendig erachten, an dieser Stelle zu betonen, dass die Deutsche Rundschau keine andere Tendenz verfolgen wird, als diejenige: deutsch zu sein, glauben wir doch auch erklären zu sollen, dass ihr Nichts ferner liegen kann, als Einseitigkeit. Sie wird das deutsche Element hegen und pflegen, wo immer es sich, über alle Welt verstreut, findet; sie wird daheim, indem sie die außerordentliche Mannigfaltigkeit des deutschen Wesens, seine Unterschiede, selbst Gegensätze würdigt, und mit aller Achtung vor den lokalen und historischen Eigenthümlichkeiten, aus denen es sich zusammensetzt, bestrebt sein, so viel an ihr liegt, bestehende Vorurtheile zu beseitigen, freundliche Annäherung, gegenseitiges Verständnir zu vermitteln und in freudiger, frischer Gemeinsamkeit den Zusammenhang des deutschen Geistes- und Gemüthslebens in seinem vollen Umfang aufrecht zu erhalten und zu stärken. Wir würden jedoch jenes Wesen in seinem tiefsten Grunde verkennen und verleugnen, wenn wir uns darauf allein beschränken wollten.
Der Deutsche, welcher seine Gesinnung, Sprache und Literatur nicht aufzugeben braucht, um ein geachteter und einflussreicher Bürger der Vereinigten Staaten von Nordamerika zu werden; der Deutsche, welcher als Lehrer, Kaufmann oder schlichter Arbeiter Fuß gefasst in allen civilisirten Gegenden des Erdballs, ja selbst über diese hinaus, in Missionen und Entdeckungsreisen die Civilisation weiter tragen hilft: wie könnte dieser jemals daran denken, gegen das Fremde sich gleichgültig, geschweige denn ablehnend zu verhalten? Wir wünschen daher, die intellectuellen Beziehungen zu den uns stammverwandten germanischen Völkern neu zu beleben, und werden, nachdem glücklicherweise der Gemüther sich eine versöhnlichere Stimmung bemächtigt hat, den Literaturen des scandinavischen Nordens und der Niederlande besondere Berücksichtigung zu Theil werden lassen und Beiträge von ihren Schriftstellern in der Deutschen Rundschau bringen. Wir beabsichtigen ferner, eine ernste und eingehende Betrachtung jenen beiden großen uns benachbarten Nationen zu widmen, dem neuerdings erst entfalteten geistigen Leben der einen im Osten, deren Machtgebiet und innere Vielgestaltigkeit fast eine Welt für sich bedeutet, der alten und hohen Cultur der anderen im Westen, die wir bisher nicht haben entbehren können und auch in Zukunft nicht entbehren möchten. Wie wir einst in den Tagen, die der Wiedergeburt des Deutschen Reichs vorangingen, Stärkung und Erquickung geschöpft aus dem Studium der ehrwürdigen Institutionen Englands, seiner Achtung vor dem Gesetz und der persönlichen Freiheit, so werden wir auch künftig, wenngleich unter veränderten Umständen, seiner politischen, socialen und literarischen Arbeit mit gewohntem Antheil folgen. Wir werden endlich aus vollem Herzen die sympathische Gesinnung erwidern, die man uns aus Italien entgegenbringt; der starken Interessen, die uns mit ihm verbinden, stets eingedenk sein und freudig jedes Lebenszeichen begrüßen, welches wir von seinem wiedererwachten Genius zu empfangen hoffen!
Es ist eine großartig bewegte Zeit, wie kaum eine zuvor, eine Zeit des Ringens für Licht und Freiheit, des Erwachens und Auferstehens an allen Enden, in welche die Deutsche Rundschau hinaustritt. Aber innerhalb dieser mächtigen, hinüber- und herüberwogenden, an keiner Landesgrenze Halt machenden, sondern die ganze Menschheit umfluthenden Strömung von Ideen auf dem in heißen Kämpfen errungenen, festen, nationalen Boden zu stehen; aus der Fülle der ringsum auftauchenden, in beständigem Wechsel begriffenen Erscheinungen diejenigen hervorzuheben, -welche von Einfluß sind auf die fortschreitende Entwicklung, Erleuchtung und Aufklärung des Einzelnen und in ihrer Gesammtheit dem Jahrhundert seine Signatur verleihen: das ist die Aufgabe der Deutschen Rundschau. Wir würden dieselbe als erfüllt ansehen, wenn es uns, auf Grundlage dieser Voraussetzungen, gelingen sollte, eine Zeitschrift herzustellen, welche von jedem gebildeten Mann und jeder gebildeten Frau mit Nutzen und Vergnügen gelesen werden kann.
Die Deutsche Rundschau wird in monatlichen Heften von 10 Bogen in gr. 8° zum Preise von 6 Mark pro Quartal erscheinen, und ihr Programm umfaßt folgende Rubriken:
1. Novellen und kleinere Romane.
2. Wissenschaftliche Essays aus den Gebieten der allgemeinen, der Cultur- und Rechtsgeschichte, der Literatur- Kunstgeschichte, der Musik- und Sprachwissenschaft, der Archaeologie, der Naturwissenschaft, der Technologie, der Kriegswissenschaft, der Politik, Statistik und Nationalökonomie, der Geographie, Reisen- und Völkerkunde.
3. Literarische Rundschau über die bedeutenderen Novitäten des deutschen Buchhandels.
4. Berliner Monatschronik } über öffentliches Leben, Theater
5. Wiener Monatschronik } und Musik.
6. Politische Rundschau
Die letzteren in jedem Hefte regelmäßig wiederkehrenden Rubriken sind jedoch nicht in dem Sinne gemeint, daß sie das gesammte dahin einschlägige Material erschöpfen sollten; vielmehr behalten wir uns vor sowohl die fremden Literaturen als die eigentlich fachwissenschaftlichen Werke von hervorragender Wichtigkeit in eigenen Essays zu besprechen. Den außerhalb der beiden Hauptcentren deutschen Geistes- und Kunstlebens stattfindenden Manifestationen von nationaler Tragweite werden wir uns keineswegs verschließen; sondern in allen gegebenen Fällen für rasche Berichterstattung sorgen, wie wir eine solche der Deutschen Rundschau bereits auch in den fremdländischen Hauptstädten gesichert haben. Unser politischer Monatsbericht wird nur die Thatsachen knapp und möglichst objectiv zusammenfassen, die Charakteristik politischer Persönlichkeiten oder Prüfung politischer Ereignisse jedoch, sofern sie geboten scheint, ausgeführter Darstellung überlassen.
Das zweite Heft wird u. A. Beiträge von Emanuel Geibel, Paul Heyse, Gustav zu Putlitz, Eduard Lasker, Max Maria von Weber, Director Schwabe, Bruno Meyer, R. Lindau und Julius Oppenheim enthalten, denen sich zunächst solche von Rudolf Virchow, Karl Hillebrand, Friedrich Spielhagen und Adolf Wilbrandt anschließen werden.
Hiermit empfehlen wir unser Unternehmen der Gunst des Publicums und seinem Vertrauen!
Die Verlagshandlung:
Gebrüder Paetel
Berlin, W., Luetzowstraße 2.,
Der Herausgeber:
Dr. Julius Rodenberg
Berlin, W., Schellingstraße 16