Am Rande vermerkt
Glück gehabt
Man kann mit 25 kg Cannabisharz aufgegriffen werden und trotzdem frei wie ein Vogel aus dem Gerichtssaal kommen. Der Beweis wurde diese Woche in Toulouse erbracht. Nachdem der Hund der Zollbeamten ein Drogenlager aufgespürt hatte, bediente er sich offensichtlich an der Ware. Ein Glücksfall für die Anwältin des Verdächtigen, die vor Gericht eine Nichtigkeitsklage einreichte und erhielt. Ihr Mandant kam auf freien Fuß.
ladepeche.fr
Ich habe eine Vision
Es ist spät im Jahr 2022, oder ist es schon 2023? Ich stehe oberhalb des Terrassenufers und blicke auf die Augustusbrücke, den berühmten Canaletto-Blick, aber in umgekehrter Richtung. Hinter mir das Schloss. Unter mir geschäftiges Treiben, aufgeregte Vorbereitungen für das große Ereignis.
Entlang der Terrasse mit Blick auf die Elbe werden nummerierte Sessel aufgestellt, streng bewacht von bewaffneten Polizisten.
Die Ehrengäste nehmen Platz, allesamt große Namen aus Kunst, Kultur und Geistesleben, offenbar dem Volk bekannt aus dem Fernsehen, denn neben mir wird getuschelt: Das ist die Schwarzer.... Das ist der Walser.... Die Verfasser des ersten Briefes an Bundeskanzler Scholz, sie werden hier geehrt. Die Crème de la Crème Deutschlands.
Ein dumpfes Rumpeln und Brummen ist zu hören. Aufregung schwirrt über den Fluss == da ein Geschützrohr, ein Panzer und noch einer. Sie rollen auf der Brücke zu uns herüber. Und da gleitet eine Limousine unbekannten Typs zwischen zwei Panzern: das ist er! Begrüßungsrufe. Ein Mann im Auto winkt - er ist es wirklich: Putin.
Beifall brandet auf. Die Briefschreiber applaudieren, die Polizisten schauen verwirrt ob der Begeisterung. Ein paar weitere Panzer. Und dann eine grüne Minna. Hinter dem Gitter sieht man Scholz und seine Minister, die Unglücklichen, die verhindern wollten, dass die Ukraine - und ganz Osteuropa - vom Nazismus befreit wird. Das kommt davon, wenn man sich auf die falsche Seite der Geschichte stellt.
Wenigstens gibt es jetzt wieder echten Wodka. Und Kaviar.
E questa volta il punto è che, a fronte della altissima vulnerabilità e facile «uccidibilità» delle società industriali avanzate, il pacifista di oggi è ancor più cieco e malconsigliante di quello del passato. (CdS)
Und diesmal geht es darum, dass der Pazifist von heute angesichts der extrem hohen Verwundbarkeit und leichten Tötbarkeit der fortgeschrittenen Industriegesellschaften noch blinder und unklüger ist als der von früher.
--ed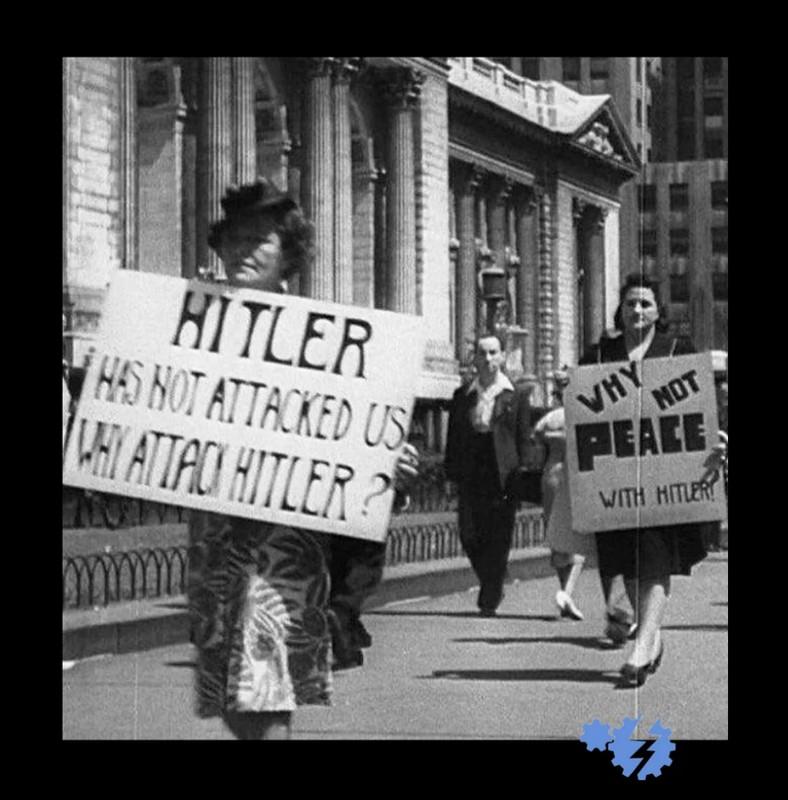 New York, 1941
Es rührt sich was in Afghanistan
Die Nationale Widerstandsfront (NWF) gab am Samstag bekannt, dass sie eine groß angelegte Offensive gegen die Taliban in mehreren Provinzen im Norden Afghanistans gestartet hat, darunter auch in Panchir, wo sie nach eigenen Angaben drei Bezirke befreit hat.
Dies ist jedoch die erste Offensive der Gruppe von Ahmad Massoud, dem Sohn des legendären Kommandanten Ahmad Shah Massoud, seit dem Fall ihrer Hochburg im Panchir-Tal, 80 km nördlich von Kabul, im September. "Dies ist unsere erste Offensive seit September", sagte Ali Maisam Nazary, Leiter der Außenbeziehungen der FNR, der wichtigsten Widerstandsgruppe gegen die Taliban, gegenüber AFP. Er erklärte, dass sie sich auf "12 Provinzen im Land, hauptsächlich im Norden" beziehe. (Le Figaro)
Der Rote Knopf
Ein Oligarch, der Wladimir Putin nahe steht, hat seine Freunde gewarnt, dass die "psychische Gesundheit des russischen Präsidenten schlecht ist" und die Möglichkeit, dass er Atomwaffen einsetzen könnte, "sehr real" ist und dass "Geschichten, dass er durchdreht, kein Witz sind", berichtet ein Top-Journalist von Bellingcat. (Daily Beast)
Ukraine -- ein Land auf dem Mond?
Amerikaner sind berühmt dafür, nur schwache Vorstellungen von der Welt ausserhalb Nordamerikas zu haben. Der Webauftritt des Nachrichtenmagazins NEWSWEEK erklärt (13. Mai) : Russia Fails to Capture Territory in Ukraine Region Held by Rebels.
Mit "Rebellen" war das ukrainische Militär gemeint.
In einem weiteren Bericht sagt NEWSWEEK: Spoonts said evidence that Russia's troop ranks and arsenal is suffering can be seen by how troops units and equipment were recently moved from Russia's border with Magnolia thousands of miles away and placed in Ukraine.
Vergeblich sucht man das Land Magnolia, von dem die Russen angeblich Truppen in die Ukraine geschickt haben: gemeint ist vermutlich die Mongolei......
Ukraine-Russland, Chef 007 Kiew: "Putin krank, Putsch im Gange".

"Vladimir Putin befindet sich in einem "sehr schlechten psychischen und physischen Zustand und ist schwer krank", er hat Krebs und andere Krankheiten. Dies erklärte Generalmajor Kyrylo Budanov, Chef des ukrainischen Militärgeheimdienstes, in einem Interview mit SkyNews.uk. Zum Krieg zwischen der Ukraine und Russland sagte der General, die Militäroffensive gegen Moskau verlaufe so gut, dass sie Mitte August einen Wendepunkt erreichen und bis Ende des Jahres beendet sein werde."
Italien: der Betrug mit den kompostierbaren Plastiktüten
In den letzten Jahren wurden die Regale der Supermärkte mit Produkten aus kompostierbarem Kunststoff" gefüllt, deren Etiketten den Verbrauchern vorgaukeln, dass sie ein Material kaufen, das keinerlei Auswirkungen hat und sich wie eine Apfelschale zersetzt.
Dies ist keineswegs der Fall, so dass in den meisten europäischen Ländern diese Einwegprodukte in der Restmülltonne gesammelt werden müssen.
Nicht in Italien, wo sie über den Nassmüll entsorgt werden müssen. Es ist bedauerlich, dass 63 % der nassen Abfälle in anaeroben Anlagen landen, die aus verschiedenen Gründen Schwierigkeiten haben, kompostierbare Kunststoffe abzubauen, während der Rest in Kompostieranlagen gebracht wird, bei denen nicht sicher ist, dass diese Kunststoffe die für den Abbau erforderliche Zeit verbleiben. Daher landet ein Großteil dieser Abfälle in Verbrennungsanlagen oder auf Mülldeponien.
Il Fatto Quotidiano
Kirill Serebrennikov: "Russland zerstört sich selbst nach Jahren der schrecklichen Propaganda".
"Ich liebe die Russen, aber viele von ihnen unterstützen Morde, die mir manchmal wie Selbstmorde erscheinen. Die Künstler selbst befinden sich in einem Dilemma, ob sie sich äußern sollen oder nicht. Aber stellen Sie sich vor, die Polizei klopft an und verhaftet Sie. Und was machen Sie? Die Menschen haben Familie, Arbeit... Und dann ist da noch der Wahnsinn der Medien, des Fernsehens, die einem jede Sekunde erzählen, dass wir von Feinden umgeben sind, dass der Westen der Teufel ist, dass wir Atomwaffen einsetzen müssen. Die Menschen sind verletzlich".
Der kluge Draghi
"Wir müssen den Frieden suchen, die beiden dazu bringen, mit dem Schießen aufzuhören und zu reden. Genau das müssen wir versuchen". Dies sagte Ministerpräsident Mario Draghi bei einem Treffen mit den Schülern der Dante-Alighieri-Schule in Sommacampagna (Verona). "Ich habe zu Putin gesagt", fügte er hinzu, "ich rufe Sie an, um über den Frieden zu sprechen, und er sagte: 'Das ist nicht der richtige Zeitpunkt'. Ich rufe Sie an, weil ich einen Waffenstillstand möchte, "das ist nicht der richtige Zeitpunkt". Vielleicht könnt ihr beide die Probleme lösen, warum redet ihr nicht miteinander, "das ist nicht der richtige Zeitpunkt". In Washington hatte ich mehr Glück im Gespräch mit Präsident Biden; nur von ihm wollte Putin ein Wort hören, und ich sagte ihm, er solle anrufen. Der Vorschlag hatte mehr Glück, weil sich die Minister gegenseitig hörten. Mit Putin habe ich eine Mauer gefunden", schloss er. Ich wusste es, ich war mir sicher, aber ich wollte es nicht wahrhaben. Man bringt nicht 200.000 Soldaten in voller Kriegsausrüstung an die Grenze eines Landes, es sei denn, um es anzugreifen. Ich war mir sicher, dass das passieren würde, denn leider ist das auch in der Vergangenheit mit der Sowjetunion passiert. Zugleich wollte ich es nicht glauben. Ich habe bis zum Schluss mit Putin gesprochen und wir haben vereinbart, uns wieder zu treffen, aber er hat die Invasion gestartet. Es ist ein schreckliches Drama, ein entsetzlicher Fehler von Putin", fügte der Premierminister später hinzu.

Il Messagero
Russische Ausdauer
In der französischen Online-Zeitschrift Atlantico interviewt Alexandre Del Valle die syrische Oppositionspolitikerin Randa Kassis zur Lage in der Ukraine:
ADV: In der westlichen Presse ist es üblich, von Experten, Journalisten und Politikern zu hören und zu lesen, dass die Ukraine ein "Grab", ein "Afghanistan" für die Russen sein wird, die sich darin verfangen und am Ende sogar verlieren werden, da einige beginnen, an einen möglichen ukrainischen militärischen Sieg gegen eine erschöpfte und demoralisierte russische Armee zu glauben. Was denken Sie?
RK: Ich glaube, dass der Westen Wunschdenken betreibt.... Meine Erfahrung mit den Russen bei den syrischen Verhandlungen und im syrischen Bürgerkrieg lässt mich gegenüber der westlichen Medienpropaganda, die der russischen Propaganda manchmal in nichts nachsteht, vorsichtig bleiben. Ich erinnere mich, dass der Westen zwischen 2013 und 2018, vor der fast vollständigen Niederlage der Islamisten, Al-Qaidas und Daech in Syrien mit Ausnahme der nordwestlichen Tasche von Idlib, eine russische Verstrickung in Syrien ankündigte, ein "totales Scheitern", dass dies auch ihr "Grab", ihr "Vietnam" sein würde.... Wir haben die Ergebnisse gesehen: Die Russen machen oft Fehler, sie sind nicht sehr gut in der Logistik, aber sie sind hartnäckig und geben ihre Ziele nicht auf. Sie lassen sich die nötige Zeit, ziehen sich zurück und kommen dann wieder, machen taktische Rückzüge, lassen ihre Feinde glauben, dass sie sich zurückziehen, und kommen dann mit voller Kraft zurück. Der jüngste Fall von Mariupol, das bereits 2014 eingenommen und verloren wurde und 2022 wieder von ihnen zurückerobert werden soll, erinnert uns daran, dass sie resilient und geduldig sind und ihre Kriegsziele um jeden Preis verfolgen, wie wir in Aleppo, Palmyra oder anderswo in Syrien gesehen haben. Der Westen muss also vorsichtig sein, bevor er einen Sieg verkündet, auch wenn dieser für ihn wünschenswert und lobenswert ist, denn die Dinge laufen nicht unbedingt so, wie man es sich wünscht, und die russische Regierung ist nicht wie der Westen von medialen Zufälligkeiten abhängig, was es ihr ermöglicht, ihre Kriegsziele dauerhaft zu verfolgen.
Die große Hungerhysterie
In Davos warnte der Exekutivdirektor des UN/FAO-Welternährungsprogramms, David Beasley, vor einer weltweiten Ernährungskrise als Folge der Kriegsblockade der Getreideexporte im Schwarzen Meer. Auch wenn es so klingen mag, ist Beasley nicht der oberste Experte der UN für den Hunger in der Welt. Das wäre der Generaldirektor der Ernährungs- und Landwirtschaftsorganisation (FAO),
QU Dongyu , der auffallend schweigsam ist. Während Russland die Schwarzmeerblockade als willkommene Gelegenheit sieht, die Aufhebung der westlichen Sanktionen zu fordern, handelt die Ukraine pragmatisch: Gebt uns ein paar moderne Anti-Schiffs-Raketen und wir werden die russische Schwarzmeerflotte versenken oder verjagen.
--ed
Sergej Bratchuk, Sprecher der Militärverwaltung von Odessa, sagte nach Angaben der Nachrichtenagentur Unian, "wir haben bisher so viele Harpoon-Raketen erhalten, dass wir die gesamte Schwarzmeerflotte versenken können".